She knows fashion, she lives for fashion. She KNOWS who the creators are & their fashion history.

So how can THIS reconcile itself?

Fast-fashion giant Zara is no stranger to controversy.
By Carson Kessler June 22, 2018
Melania Trump's 'I Really Don't Care, Do U?' jacket is just the latest target of sartorial controversy that the brand seems to so welcomingly invite into its 2,200 stores. Known for its incredibly quick production speeds, the international fashion retailer is increasingly becoming known for its magnetism to controversy. Here's a timeline of Zara's headline-making fashion faux pas.
September 2007: Zara Swastika Handbag
Zara withdrew a $78 handbag from its stores after a customer pointed out that the design featured four green swastikas. The bag came from an Indian supplier and the approved design didn't feature the symbols, the company said at the time.
August 2011: Zara's Sweatshop Conditions
[...]
August 2014: Zara's Holocaust Prisoner Shirt
Zara pulls controversial kids' shirt resembling Holocaust uniform:
http://t.co/GJG0LGyIZ7
pic.twitter.com/8zl4eZ2J1J
— CNBC (@CNBC) August 28, 2014
Anti-Semitism claims against the company arose yet again after customers pointed out the kid's "striped sheriff t-shirt" looked uncomfortably similar to the striped uniforms and yellow stars that Jews were forced to wear during the Holocaust. After pulling the controversial shirt from stores, Zara cited classic western films, which were said to have inspired its design.

August 2014: Zara 'White is the New Black' Tee
[...]
June 2015: $40 Million Discrimination Suit
After firing the only corporate attorney for Zara's U.S. and Canadian business, the fast fashion company was met with a $40 million discrimination suit in New York's Supreme Court. In-house counsel, Ian Jack Miller, alleged he was fired because he is Jewish, American, and gay. The complaint against Inditex founder, Amancio Ortega, alleges that confidants of Ortega—all straight, Spanish, and Christian— harassed Miller by emailing graphic pornography and racist emails, including messages depicting Barack Obama in a Ku Klux Klan hood. A jury trial was requested.
[...]
April 2017: Zara Pepe the Frog Skirt
Zara pulls denim skirt after people point out that cartoon on it looks like alt-right symbol "Pepe the Frog"
https://t.co/r1KT0ABIXI
pic.twitter.com/hkNzFwjxFg
— Chicago Tribune (@chicagotribune) April 21, 2017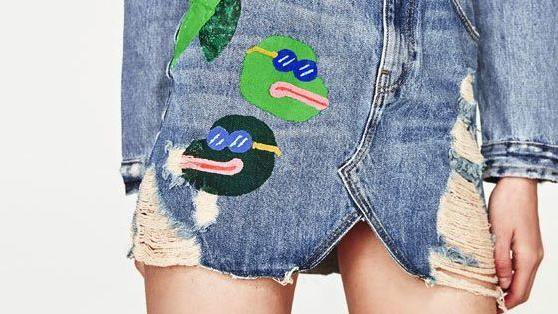 November 2017: Laborers Sewing Notes In Pockets
Shoppers in Istanbul discovered cries for help from factory workers in the pockets of recently purchased clothing from Zara. The handwritten notes reportedly read, "I made this item you are going to buy, and I didn't get paid for it." Bravo Tekstil, a factory which supplied garments to Zara, shut down in 2016 owing its 140 workers three months of pay as well as severance allowance. Inditex noted the fraudulent disappearance of the factory owner had led to the unpaid wages, but agreed to create a hardship fund to compensate all of those impacted.
Once again blowing up on social media, Zara quietly withdrew its denim miniskirt printed with cartoon frog faces. The two frogs featured on the skirt closely resembled the problematic meme tied to anti-Semitism and racism—Pepe the Frog. In September, Pepe was designated an alt-right hate symbol by the Anti-Defamation League. The skirt was on sale as part of Zara's "oil on denim" spring artist partnership.
[...]
http://fortune.com/2018/06/22/melania-t ... -clothing/

Let the rightwing spin machine begin....